Outrun86 - Coast to Coast mod
A downloadable game for Windows
Outrun86 - Coast to Coast mod
Using the awesome cannonball engine with the layout level editor by Chris White. I plan to create new levels, music and sprite mod to allow the Asha+Wonderboy to drive coast to coast 80s sega style
https://github.com/djyt/cannonball/wiki/Cannonball-Manual#enhancements
60 fps gameplay (smoother than the original game) - enabled
True widescreen mode (extend the play area by 25%)
High Resolution mode (improves sprite scaling) - E
Time Trial Mode (Beat your time on a chosen level)
Continuous Mode (Play all 15 stages sequentially)
Western, Japanese & Prototype Track Support - E
Support for Custom Tracks from LayOut - 3 done
Customisable Music - 1 done
Toggle Fixed Audio ROM
High Score Saving
Analog and Digital Controllers Supported
Force Feedback / Haptic Support (Windows Only)
Automatic gear change
Cheats (No Traffic, Infinite Time)
Optional Attract Mode AI Improvements
Install instructions
Run Layout and import levels jh1 or jh3 - Export and run.
Comments
Log in with itch.io to leave a comment.
I am just in love with this! Thanks for this quality remake of Out Run
Just a few levels to go with the work by
Chris White - Project creator.
Arun Horne - Cross platform work.
https://github.com/djyt/cannonball
I've been asking for a sprite editor to provide new characters with the new levels .
I'm not sure how to run this mod. I can only import outrun levels not an JH1. There's also only a JH3
I too cannot get the mod to import. There is only an option to import "level" not import "track". When selecting import level, there is no JH1 or JH3 listed. In the Game folder I can see the file JH.bin & JH2.bin. There is no JH1 or JH3, obviously I'm mossing something (no doubt something simple)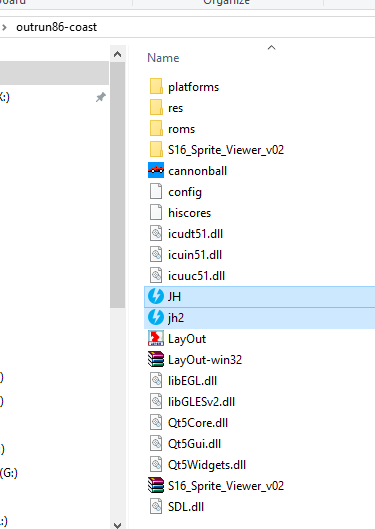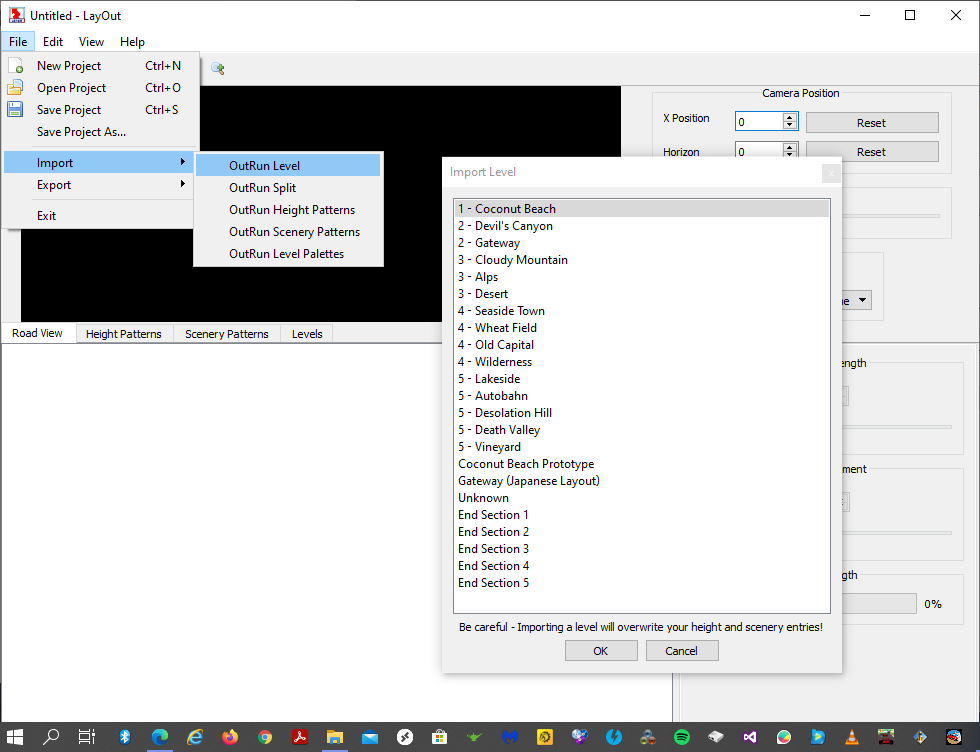 It's Open Project JH or JH2.bin. I was attempting to complete a new set of coast to coast levels for routes A-E and ideally new sprites when the editor is available. Plus having little response to the work so far the project is on hold for now.
I encourage using the level editor urself aswell.
cool, sussed it now. Thanks!
Cheers let me know how it goes and if you do any tracks of your own I can highlight in my outrunning videos for youtube?
This is absolutely fantastic
I'm glad you enjoyed. Outrun was an arcade favorite and finding this engine rebuilt from scratch in C++ for windows with the upscaled effects a pleasure. Did you enjoy the two custom levels? I was planning more and a sprite hack to feature sega characters as driver/passenger
Yes, I enjoyed it very much, and I think that is an amazing idea. I work as a writer and semi-designer for many different projects, and if you ever need to make a fully original, arcade racer-inspired game, I would love to help in any way I can.
Are all your projects listed online to see? One of the most interesting arcade style-racer I've seen recently was Nitronic Rush which I wanted modding with new vehicles and levels if you were interested. Or potentially a VR Outrun 2020?
Sadly they are not, but I have worked on smaller titles such as Bomberman remake called Hide And Go Boom, and other arcade style games that will be released hopefully sometime mid 2019. I don't have much VR experience, but I could surely be the writer, overall these sound like fantastic ideas. If you have discord I would love to message you more on there.
Ideas are the material of games, I'm working on a VR trilogy atm if you were interested in taking a look.
I'm not on discord atm, worth joining?